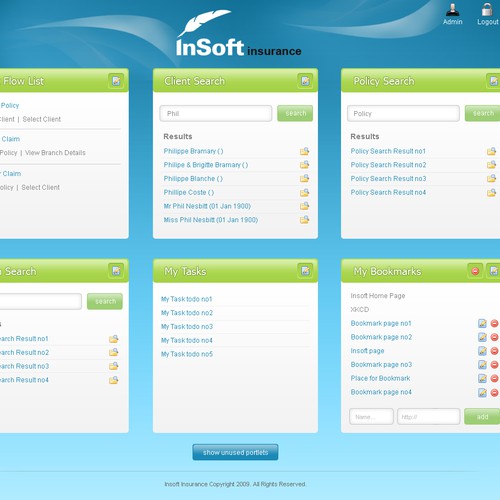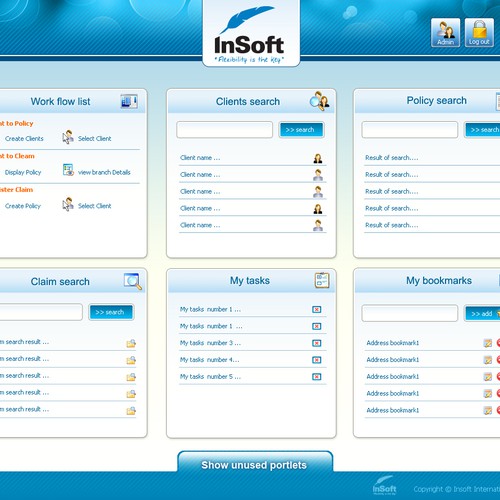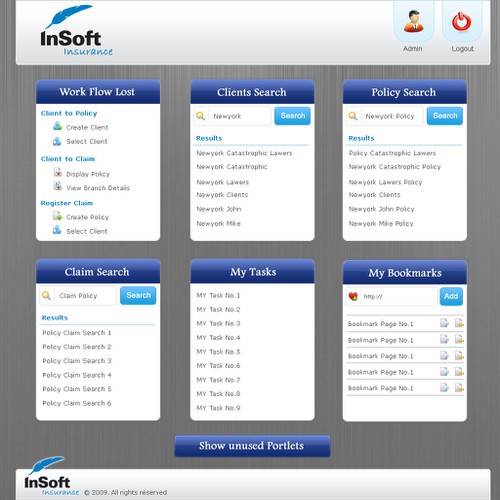 Voici comment David Smylie a commencé son expérience web page design
Récapitulatif
We need a portal page created for an intranet based insurance application.
This will not be a public site, and will not need to 'capture' new traffic. It needs to look professional and suitable for use in a corporate enviroment.
Qu'est-ce qui vous inspire et comment imaginez-vous le design de votre entreprise?
The application is targeted at existing corporate customers and will be used in an office environment.
The page design is for the portal page - this page will consist of a header (+ menu), and up to 9 portlets. A portlet in this instance is a 300x300px div with varying functionality. (Don't worry to much about the contents of these.) The portlets are able to be disabled/enabled by the user as well as able to be re-arranged, so the design cannot rely on the position or presence of these.
I've put an example up of my development page with several portlets  at http://insoftint.com/insoft.jpg - this is purely for clarification and should not be taken to be indicative of the design I'm after.
The Portlets are:
- Client Search
- Claim Search
- Policy Search
- My Work Flows
- My Tasks
- My Reports
- My Utilities
- My Reports
Each portlet needs to have a title, an edit icon (see existing portlets top right hand corner for example), and preferably a simple icon in the top right hand corner indicating what type of portlet it is.
I'm using the free famfamfam icon set for development, so any icons need to be taken from that set, or be in a similar style
Désire
- Fixed width page design @ 1024px across.
- Professional appearance, suitable for a corporate office
- Style should be at least vaguely web 2.0ish
- Icons used must either come from or be similar to famfamfam icon set
- Page must have at least 6 of the above listed portlets present on it. (or all of them if you want).
- Page header/footer/border must be suitable to use for the rest of the site (ie, the pages that don't have the portlets on them)
- As this page will  be heavily used (ie 8 hours a day by the same ppl), colours need to be subtle and easy on the eyes.
Ne veut pas
- Minimal use of stock photograhpy (if at all). I don't mind something in the header, or something subtle in the background.
- Excessively bright colour schemes. 
- A cluttered/busy design.
Mises en avant gratuites
Concours ouvert

Concours rapide
Nous avons trouvé des concours similaires qui pourraient vous intéresser